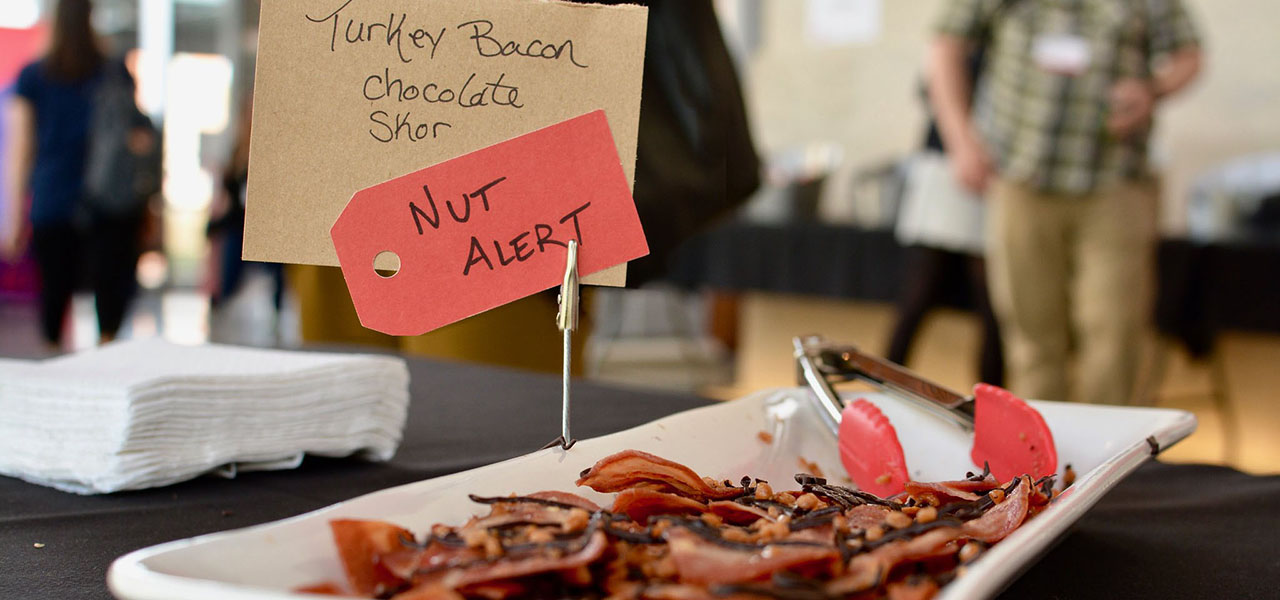 Friday 30 Aug 2019
Fluxible's Festival of Food
At Fluxible, the "F" word gets thrown about more often than you might expect. We focus on food as a facilitator for fostering friendships, fuel for festival-goers, and as a featured fun factor. So fabulous food at Fluxible is well, frankly, a fact.
Food as a user experience
We strive to create moments of unexpected delight throughout Fluxible, and the menu provides plenty of opportunities to hit that mark. When designing food experiences, we keep in mind Fluxible's overall vision of feeling more like a festival than a business conference. That's why you're more likely to find items like fresh fruit and palačinka at the morning break, rather than day-old muffins. It also explains artisanal chocolate hand-dipped bacon — which started as a whimsical experiment but was such a hit that it became a recurring feature.
The food coordinators on Team Fluxible pay special consideration in menu planning to keeping our energy up throughout the day. This attention to detail translates into crazy delicious offerings that not only keep you satisfied, but do so at strategically important times like the dreaded mid-afternoon crash. Ward off that sense of slumber with quick hits of protein, sweets, or caffeine — whatever works best for you.
Keeping it local
Proudly homegrown, Fluxible's food selections are awesome ambassadors for our tech town. We work with local restaurants, suppliers, and caterers from Waterloo Region, most of whom are active participants in our fast-growing community. We love to showcase the region to the many visitors who join us for Fluxible.
Nobody gets hangry on our watch
With all-you-can-drink espresso from professional baristas, hand-made snacks each morning and afternoon, lovingly catered lunch one day and at local restaurants another, a gorgeous spread with craft beer and creative cocktails at Saturday night's party... you'll need to break out all the #hashtags to capture the food experience at Fluxible Conference.
Hungry for more? Don't delay — get yourself tickets to Fluxible now!
Back to News