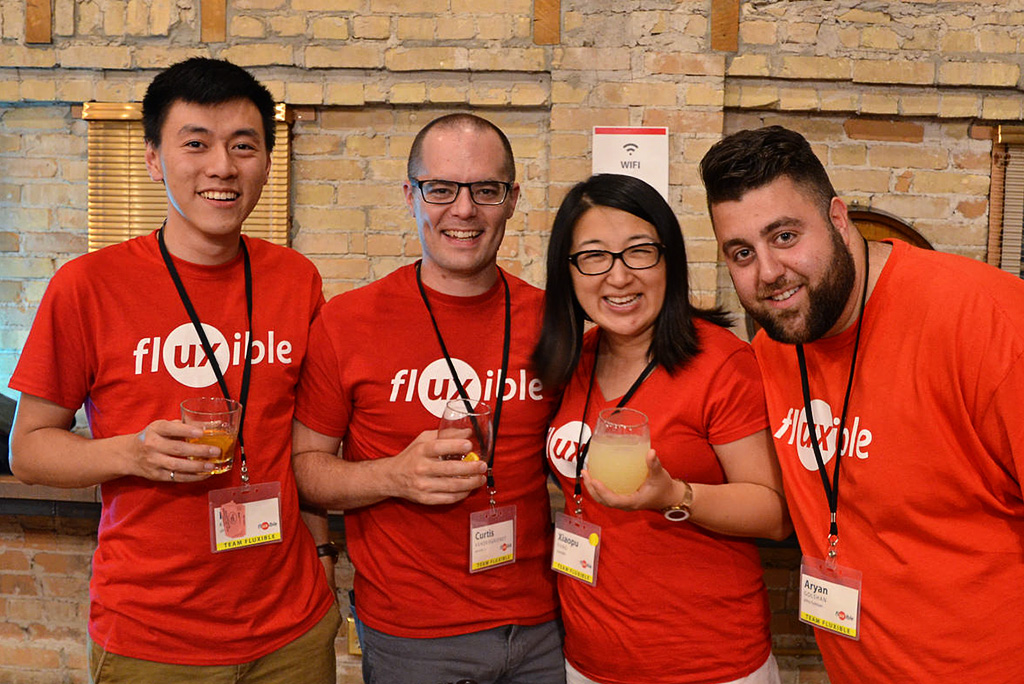 Monday 10 Sep 2018
Our Volunteers are the Best
Every year volunteers, or "Ambassadors" as Volunteer Coordinator Hans Kao warmingly calls them, enrich the Fluxible Conference, helping to make a positive impact and bring a sense of community to our grassroots festival. The festival is brought to life by two teams of volunteers: our Planning Team that works tirelessly year-round, and our Event Team that helps things run smoothly during the festival itself. Fluxible relies on volunteers to keep the cost of registration as low as possible for attendees, so much so that the festival itself wouldn't be possible without the dedication and hard work of this amazing group of UX enthusiasts. Hans knows first-hand the importance of volunteers to the festival, not only to run the event smoothly but to help foster the sense of community and engagement that Fluxible is known for. "I try to impress two ideas to all my volunteers: one, that we are hosts and ambassadors of Fluxible. We need to be attentive to guests needs and offer whatever assistance we can to make their time as comfortable as possible. And two, asking ourselves, how can we provide the best conference experience for everyone?"
While Hans describes Fluxible as "A tech conference that focuses on design and user experience" for both volunteers and attendees, it also serves as a fantastic networking event in the UX community. Everyone has the opportunity to share stories and experiences, all while hearing from world-class speakers, teachers, and authors. The volunteers, in particular, are known for their passion for the field and desire to make an impact in the community. Hans cites the effect the festival has on the UX community for both Waterloo Region and beyond: "Our volunteers have the chance to help shape our design community, to be on the front line of constructing these meaningful connections and the exchange of ideas."
It's not all hard work and no play for volunteers, though. "One of Fluxible's goals is to have fun, so we also ask our volunteers to do the same," Hans affirms. During the planning stages of the festival, there are numerous get-togethers to exchange ideas over food and drink. This year's festival boasts a small but mighty team of volunteers, with 16 people on the planning team who work year round. An additional 12 volunteers providing event coverage throughout the conference weekend with more pitching in to help throughout the week during Fluxible Meetups. The small group helps foster a sense of comradery between the volunteers. "When I started out as a volunteer, I got to meet so many great people, build lasting connections, many of whom I now call my friends. It's remarkable to me that a group of random people, many of whom have never met before the conference, can become a highly effective team and bond over the course of the weekend."
While volunteers receive free registration to the festival, additional benefits include feelings of pride from helping to connect people from different communities around their shared interest in user experience. According to Hans, Fluxible also provides ambassadors with an opportunity to both raise professional profiles and receiving recognition from peers in the community.
When asked what he's most looking forward to for this year's event, Hans's excitement is contagious. "I am excited to see all our plans come together during the conference. As a member of the design community, I am excited to connect with my peers and catch up. As a designer, I am excited to learn more from the speakers and other attendees at the conference. Every year I go home with some golden nuggets that have a profound impact on me." And, as with all great parties, the food is a showstopper. "I am so excited about the food. Lisa and Dana (caterer Soire Party and Cake Design) always prepare the best food that I've ever had at any conference. My mouth waters just thinking about that."
While Fluxible is fully staffed for 2018, if you are interested in volunteer opportunities for next year's festival, send us an email info@fluxible.ca.
Back to News