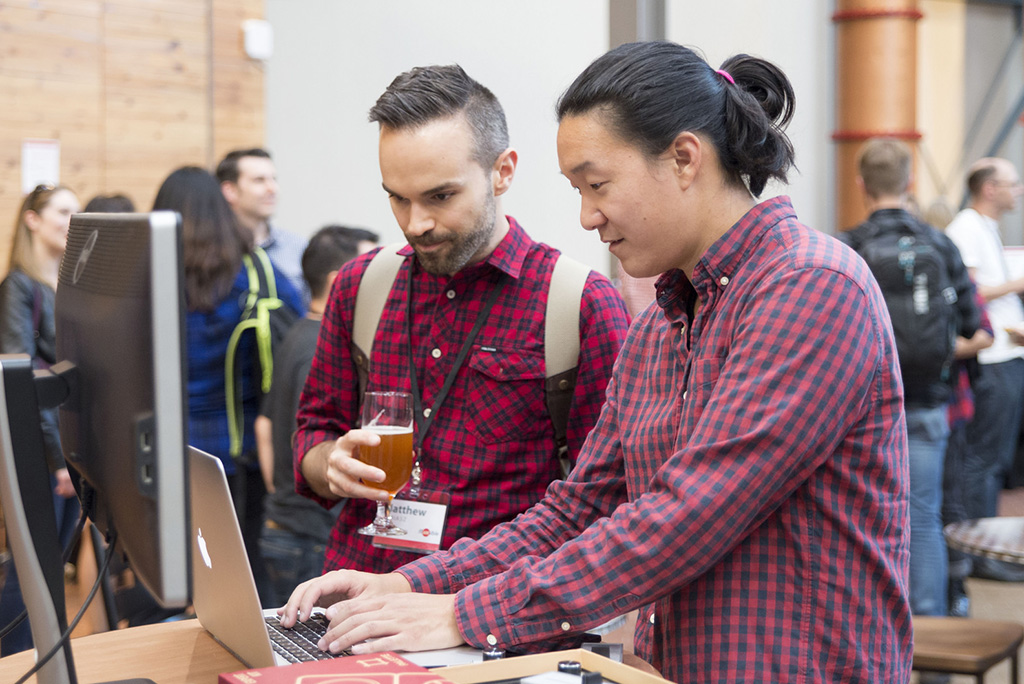 Sunday 09 Sep 2018
Connect, Engage, and Learn with Fluxible Meetups
Fluxible Meetups offer a variety of UX events each day, from Monday-Friday starting September 17 and include talks, brown-bag lunch sessions, panel discussions, and more. Registration is free, but spaces are limited – RSVP at Meetup.com.
Looking for a unique way to develop new professional relationships, gain UX knowledge and connect with colleagues in the industry? Have a few minutes at lunch or after work the week of September 17-21? Pack a lunch, don your walking shoes, and take advantage of this year's Fluxible meetups.
Held the week leading up to the Fluxible conference, Fluxible meetups offer UXers and people who are interested in user experience a chance to learn and share with peers in the community. The best part is they're completely free to attend!
This year's meetups include site visits, brown-bag lunch talks, panels, and a special edition of the uxWaterloo meetup series. Want to learn more about what to include and, maybe more importantly, what not to include in your design portfolio? Join our expert panel of UX managers for insights and practical advice.  If site visits are where your interest lies, local companies Oracle Netsuite and D2L are pulling back their curtains, giving tours and showing the behind-the-scenes work of their in-house shops. Just interested generally in hot UX topics? Our brown-bag lunch talks are really varied and fresh. We have talks on behavioural economics, customer experience maps, game thinking, ethical design, and UI refactoring.
Not able to join for the full Fluxible conference? Fluxible meetups can help you experience Fluxible in a different way. Meetup co-organizers Janna Cameron and Jennifer Krul see these free meetup events as "a really great way to get to know UXers in the community and feel inspired by all the innovative things we have going on here in K-W."
Monday, September 17
12–1 p.m., Communitech, 151 Charles St. West, Kitchener, ON
Designing digital experiences for the rapidly-evolving retail sector can be daunting. Customers and the staff that serve them have complex cognitive and psychological requirements. Behavioural economics provides a lens to consider these factors. In this talk, Danny will explain how the innovation lab at LCBO applied behavioural economics principles to optimize the design of a drink mixology application.
5:30-7 p.m, Communitech, 151 Charles St. West, Kitchener, ON
Creating a UX portfolio is a high-stakes exercise. How do you make sure you're putting your best foot forward? Get an insider view from three veteran design managers. Davis Neable (Shopify), Kem Laurin-Kramer (Independent Design Consultant), and Jennifer Pretti (Thalmic Labs) will be sharing insights on design portfolios: what makes for a good one, what pitfalls to avoid, and how the design portfolio fits into the hiring process. If you are looking to break into the industry or take that next step in your career this panel is not to be missed!
Tuesday, September 18, 2018
12-1 p.m., Communitech, 151 Charles St. West, Kitchener, ON
We make maps to draw insight, catalyze ideas, get on the same page, and understand complex experiences and processes. At the experience layer, we use maps to drive decisions that impact end users as well as those who deliver services. Linn Vizard will be talking about maps – what they are, when and why to use them exploring customer journey maps, empathy maps, stakeholder maps, strategy maps and more.
5:30–7 p.m., Oracle NetSuite, 55 King St W · Kitchener, ON
Come visit the Oracle NetSuite office and join their team of developers, product managers and UX practitioners for an evening of food, engaging conversations and a look at how these teams work together at Oracle NetSuite. Presenters will share an overview of their role and how it contributes to the user experience of NetSuite. Then, the panel will take your questions.
Wednesday, September 19, 2018
12-1 p.m., Communitech, 151 Charles St. West, Kitchener, ON
Game thinking is a problem-solving process that uses strategies from game design and gamification to help drive the design of user experiences in digital or non-digital applications. Bring your brown bag lunch and join Lennart Nacke as he discusses using elements of gaming to help with problem-solving and design challenges.
Site Visit: D2L
5:30-7 p.m., D2L, 151 Charles St. West, Kitchener, ON
Join D2L's team of product designers and UX researchers for an evening of food, conversation, and your choice of sessions including:
Conversation and hands-on exercise on feedback and effective collaboration.
Product design process, why it was the right time to capture it, the useful conversations it has grounded both inside and outside of our team, and the role of empathy in developing and sharing it.
All about D2L and the Product Design team.
Thursday, September 20, 2018
12-1 p.m., Communitech, 151 Charles St. West, Kitchener, ON
As the use of technology continues to grow, so too does its complexity and capabilities. Technology brings many personal, societal, and other advantages. However, there is increasing concern about its ethical design and use. Join University of Waterloo Assistant Professor Jennifer Boger for some lunchtime professional development, as she dives deeper into the topic of ethical design.
5:30-7 p.m., Shopify, 57 Erb St. W, Waterloo, ON
Online experiences can be fast, efficient, easy, orderly – and sometimes, that's all wrong! With her presentation, Bloomstein challenges that efficient isn't always effective and that some of the most memorable and profitable engagements are slow and messy... and that's just right.
7-8:30 p.m., Google Kitchener-Waterloo, 51 Breithaupt Street, Kitchener, ON
As user experience professionals, we are uniquely positioned to drive product strategy through the deep understanding of the needs of the people who use our products. In this talk, Google's Meagan Timney will share some stories of how she's developed successful long-term relationships with cross-functional teams and enabled UX to be an effective partner in developing product and organizational vision and strategy.
Friday, September 21, 2018
12-1 p.m., Communitech, 151 Charles St. West, Kitchener, ON
2018 Fluxible conference speaker Shoger, is one half of the very popular Refactoring UI. Shoger will work through common UI issues faced by designers, showing what difference a few small cosmetic changes can do to bring a design to the next level.
For more information and to register for any of these free events, visit Fluxible on Meetup.com. Spaces are limited and going fast!
Back to News