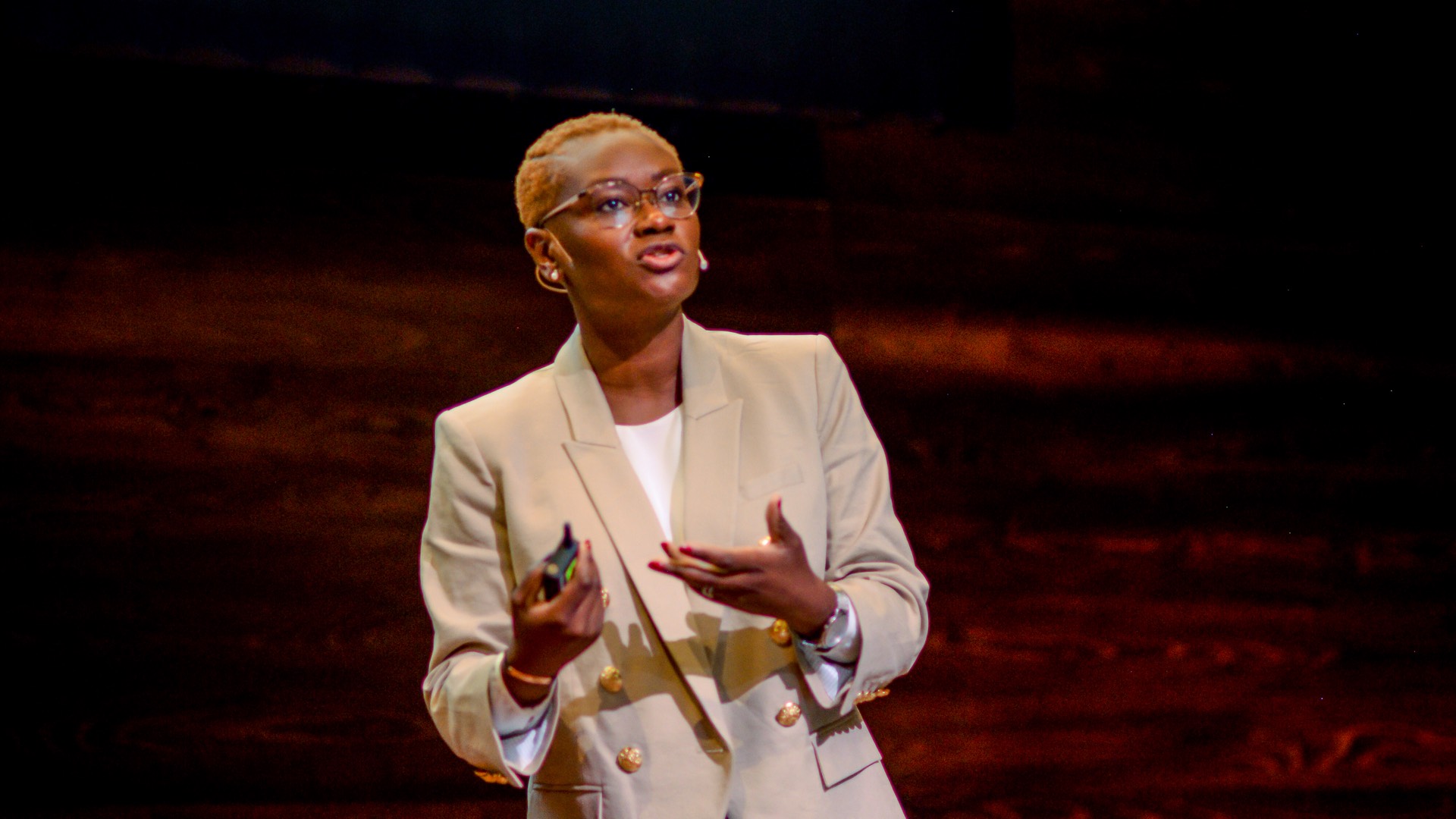 Thursday 14 May 2020
Fluxible speaker spotlight: How Lola Oyelayo is designing for the future
Although Fluxible 2020 has been cancelled, Fluxible TV is on the air. Lola Oyelayo is one of the speakers on the program and we had the chance to talk to her ahead of her on-air appearance June 4 about wicked digital problems for the next decade.
"I felt profoundly ashamed." These were the words of Nobel prize winning chemist Otto Hahn after witnessing the effects of the poison gas he was forced to help create for the German army during the First World War. Following the war, he began to closely research radioactivity. His discovery of nuclear fission led directly to the invention of the atomic bomb in the Second World War. Devastated by the use of his scientific discoveries for such harrowing military purposes, he dedicated himself  to protesting against the misuse of nuclear energy and other scientific advancements for the rest of his life. 
Though an extreme example, this kind of scenario is exactly what Lola Oyelayo would like designers of today to avoid. She has plenty of experience discussing the wicked digital problems we face on a day-to-day basis and how we can prevent ourselves from creating more problems for the future when making design decisions.
"When you're adopting some of the practical tools and ideas that we have about going Lean and being Agile and always picking up the new technology, we're ignoring things that we may be doing that may actually become really difficult problems for those that will come after us," she says.
Lola is a forward-thinker and has held design leadership roles at numerous organizations in the UK. Most recently, she spent the past year at CapitalOne, where she held the position as Director of UK Design. She also offers design strategy services as the director of her own consultancy called OYE (Own Your Experience).
Lola says that not only should we be designing products and services that easily serve the users and designers of today, but also help the users and designers of tomorrow.
Lola tells us to look to Facebook as a modern example of an organization that failed to consider the future abuse of their platform and suffered the consequence because of it. "At the time, I don't think anybody at Facebook was intentionally setting out to create this really problematic software for us from a society perspective," she says. "They certainly weren't trying to ruin elections, or create misinformation, or kind of create issues between countries and instigate war. But the fact that they sometimes find themselves embroiled in that narrative is a good example of what could we be creating in the next 10 years of tech that we just can't see now?"
Lola hopes that UX professionals will start to be "very intentional, work in the open, share transparently, and think quite proactively at least about focusing on a user need" in order to avoid reproducing the same headaches that legacy technology creates for many professionals in tech today. Though she has always worked in environments that are trying to embrace tech, embracing tech can be hard when companies depend on legacy technology that has become unwieldy. The trouble that many organizations have with becoming more future-oriented is the foundation of Lola's work.
She gave the following example: "There's this single machine that nobody can really get the information off of, so it's protected to the Nth degree … and there's only three people with access. Which means you can't do a real-time lookup because that one machine just can't handle real time search. And how do you work around that?" she asks.
"How do you work around that?" is a question that Lola likely has to ask again and again as she faces problems across different contexts. She merges this kind of conscientiousness into all aspects of her work, whether she's focusing on financial inclusion through her work at CapitalOne, or bringing diversity and inclusive practices to design commissioners through her work at Rooted By Design. Lola spoke at Fluxible in 2019, and she had plenty to say when we asked her about why she enjoyed the conference.
"I've done quite a few conferences in the last two years and something I've noticed in the last couple is that you can tell the difference between people who have organized the conference because they're passionate about the field versus those who organize the conference for profit.… The experience of being at Fluxible, it stood out as one of those places where the environment was really curated, the food was fantastic, the other speakers were great, the venue was great," says Lola.
Fluxible is definitely made by and for people who are passionate about the field of UX, so we're glad that she noticed! Lola herself has many other passions, including user design as a form of activism, a wanderlust that inspired six months of travelling after she completed her Master's degree, and her favourite Netflix shows, which she'll binge on her birthday.
Fluxible TV goes on the air June 4. Registration is now open.
Back to News