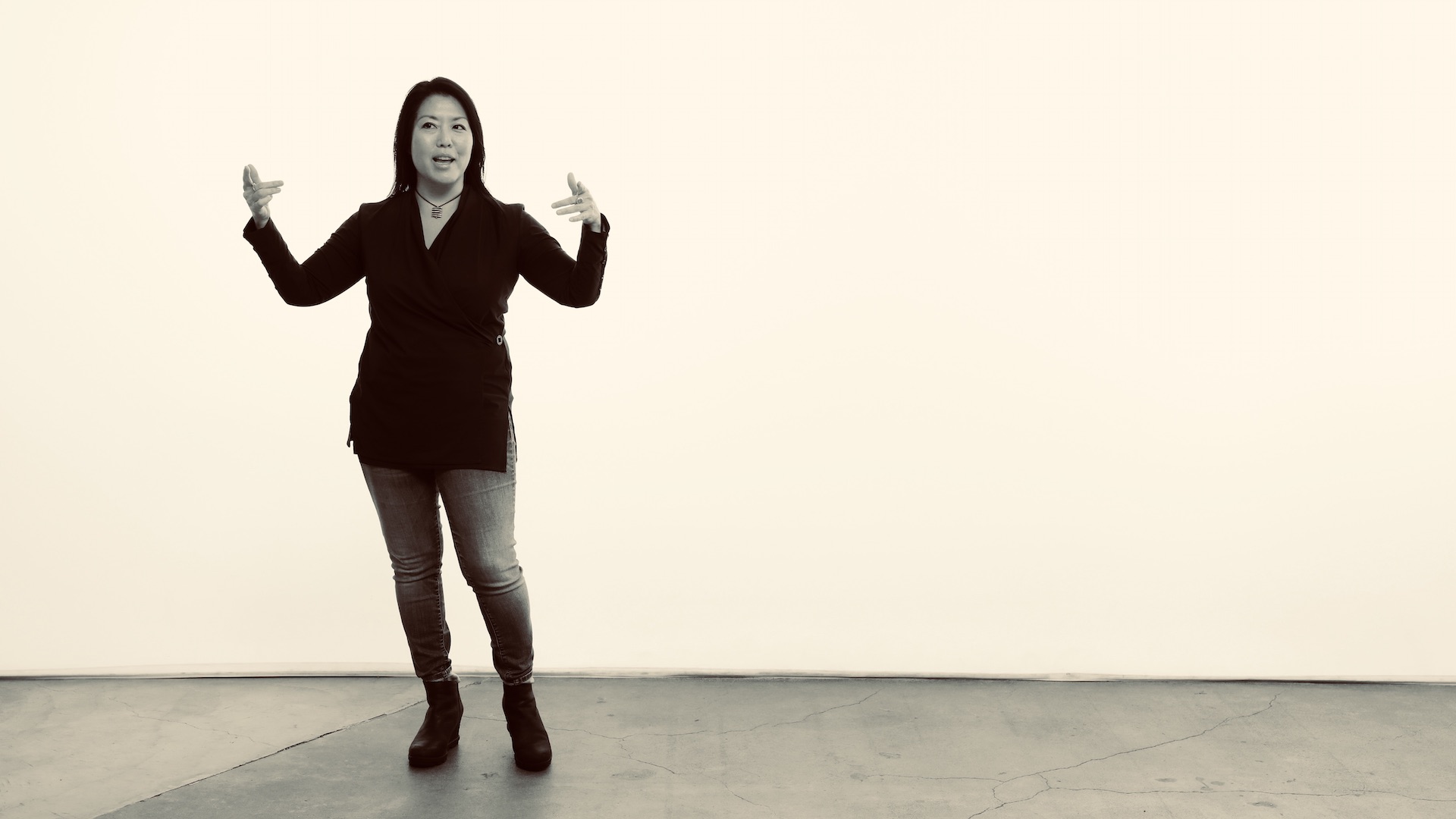 Thursday 06 Feb 2020
Fluxible speaker spotlight: How Kelly Goto is creating change
If ever you're interested in having an organic conversation with a UX and CX community expert, look no further than Kelly Goto.
With careful craftsmanship, Kelly has continued to inspire curiosity and creativity in her experiences as a keynote speaker, ethnographer, and instructor.
And Kelly is returning to Fluxible this year to share what she has learned and observed in the years that she has added to an already seasoned career since her last talk at Fluxible in 2014. More recently, Kelly has shifted her focus towards universal design to help different people of diverse backgrounds live better lives. She points out that whether we realize it or not, we all experience some form of disability on a regular basis in our day to day lives. And so she says "What I'm trying to think about is universal design and the practice of designing one experience that meets the needs of many, and allowing that experience to adapt to different contexts and situations. That's the future technology that we're designing for."
Moving beyond consumer products, Kelly wants experts in her field to focus on improving the overall lifestyles of those that their work impacts. As Kelly's desire to help people live a higher quality of life has increased, so has her focus on working on healthcare initiatives with a variety of organizations.
Her company has recently been working with the California Health Care Foundation, an organization that receives grants and puts them towards improving healthcare systems for California residents. She says the work that she is doing with them is one of the most impactful ways that she has seen UX design used as a tool for social good.
Kelly and her team wish to make data easier to visualize for health professionals such as doctors, coroners, and state officials so that it is easy to track the health outcomes of the work that they do and note areas of success and areas that need improvement. "It is really important to take data and to be able to visualize it in a way that makes change," says Goto. "We're really looking at data in a different way, and that is focusing on the user experience."
Kelly believes in a holistic approach to research and design, which is why she is the CEO and Principal of gotomedia and gotoresearch. Looking to learn more about delivering the best user experience from every perspective, Kelly says that gotomedia focuses on the current state of user experience research and design. As a consultancy firm, the company conducts evaluative research on the usability of their client's products in order to help their clients create the best solutions for their users.
But as a leader in her field with over 20 years of experience, Kelly goes beyond her work at gotomedia and keeps an ear to the ground, paying attention to the growing trends and emerging methods in her industry. With a focus on the future state of user experience and service design, gotoresearch conducts generative research and design to help companies so that not only can they understand the design needs of their own products or services, but also the personal needs of their own customers.
The future of UX lies in helping people, says Kelly, and so her work reflects a need across multiple industries for more empathy towards users. Her current work draws on some of the lessons from her 2014 talk at Fluxible, "Beyond Usable: Mapping Emotion to Experience," which explored emotion and empathy in depth. The need for empathy as a UX tool is just as important today as it was the day Kelly delivered that talk almost six years ago, she says. Empathy is sometimes overlooked as companies struggle to find research participants, the budget, or the time to focus on people and not numbers.
"Companies aren't meaning to just ignore good user experience, they're really having a hard time to find those good people to interview and fitting those research projects into those cycles that they're on and forced to be on. Empathy is super important and continuing to look at the emotional side of the experience is life-changing, but companies are not embracing it as much as they should," she explains.
With such a focus on improving users' quality of life, Kelly's talk at Fluxible this year, which will be all about universal design, comes as no surprise. Empathy is a key component of this work, which strives to create experiences that anyone can adapt to and embrace. Kelly is looking forward to sharing her knowledge on the topic in June.
Kelly fondly remembers the warmth of the Canadian crowd and the wonderful connections that she made at Fluxible in 2014, and says that once again she is "most looking forward to seeing her peers and the Fluxible crew and the enthusiasm of the UX crowd of attendees." If you get the chance to speak with her after her talk, be sure to recommend some areas in Toronto and Quebec for her to visit the next time that she's here, or ask her to tell you a story about shopping for sweaters and a suitcase full of shoes from her last Fluxible visit!
Back to News