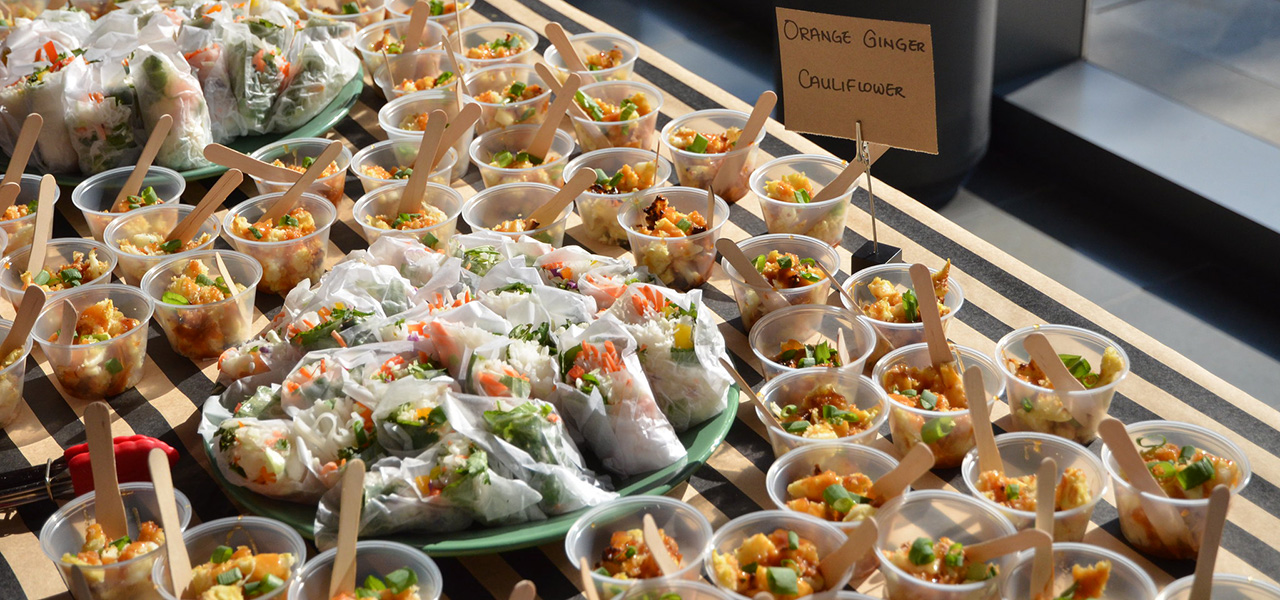 Thursday 01 Aug 2019
Fluxible food & drink 101
Each year, attendees describe the food and drink at Fluxible as "outstanding". So whether you're a first-time attendee or (like me) start planning your next meal as you're eating your current meal, we're here with a 101 for your 411 on what to expect during the weekend conference.
Dietary restrictions? No problem.
Fluxible is committed to ensuring that everyone has a memorable food experience (in an amazing way). "As someone with dietary restrictions, sometimes my 'special menu' items can feel like such a letdown," says Fluxible food coordinator Talia Plant. "Fluxible's focus on shared dining can make you feel like you're part of the community — and we want everyone to have that experience. We lean on the expertise of our food vendors and their design sensibilities to collaborate on crafting the menu, and what we end up with is an incredible food experience for everyone."
If you're vegan, nut-free, gluten-free, dairy-free, or have other allergies and restrictions, let us know at registration time and we'll have you covered.
Good morning!
Mornings at the conference kick off with the legendary mobile coffee bar from Waterloo Region fixture Matter of Taste. This isn't your community centre carafe of coffee here, but unlimited award-winning professional barista service. No need to stop for a flat white on the way to the conference, because we've got you covered — and the best part is, they'll be onsite all weekend serving up free drinks. According to our food coordinator Jeff Towers, "Coffee is a bit of an obsession in the region, and Matter of Taste walks the talk".
A little nosh
It's no surprise that for many people, the ideas of food, conversation, and community are inextricably linked. Morning and afternoon breaks feature delectable snack tables, giving you a chance to connect with fellow attendees. Think networking while noshing. Back again this year are Fluxible friends and caterers Soirie Party and Cake Design, who relish the opportunity to be creative while doing what they love: feeding people!
What's for lunch?
Lunch is provided by Fluxible on both days of the conference. On Saturday, it's hosted at select neighbourhood restaurants within easy walking distance. You'll be assigned to a restaurant where you will enjoy a meal with fellow Fluxible attendees and speakers. "One of the best things about the lunches are those unplanned connections," says Jeff. "We randomly assign you unless you have a dietary restriction so, while you may not eat with your friends, you will get a chance to meet other Fluxible attendees. In a way, it almost feels like summer camp."
Have your heart set on a certain restaurant? No worries, we'll have a trading post where you can swap lunch tickets.
And if that wasn't enough
Dinner, craft beer, cocktails, and door prizes? Yes, please. Saturday night's party is always a highlight and included in your registration. So get out there and enjoy more delicious food, drinks, and music. Not only will you get a chance to have some fun and meet even more fellow attendees, but did we mention the food?
Be sure to wear your stretchiest pants to Fluxible. :-)
Back to News