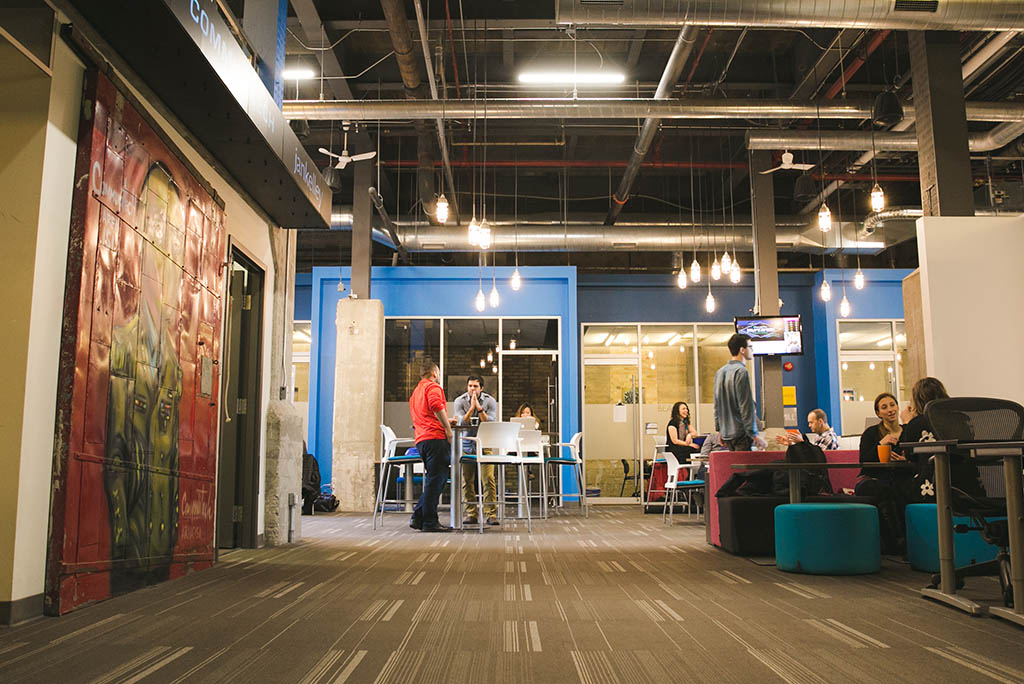 Tuesday 18 Sep 2018
Sponsor Profile: Communitech Helps Tech Companies Start, Grow, and Succeed
Communitech is a cornerstone of Canada's tech ecosystem, supporting a community of over 1,400 companies who are building the next generation of successful companies in Waterloo Region. This innovation hub is a not-for-profit, public-private partnership in the Waterloo Region. Communitech's mission is to help tech companies start, grow and succeed.
As a returning platinum sponsor, Communitech's community relations manager Beisan Zubi, is excited the venue will once again host the festival's meetup series in the days leading up to the conference. "We're excited for the opportunity to engage with the UI/UX crowd, to bring attendees into our space, and highlight both Communitech programs and Waterloo Region in general."
Driving Innovation
Focused on fuelling job creation and company growth, Communitech's Hubs keeps buzzing well beyond their typical business hours. Their hubs serves as collaborative office spaces for a mix of tech and non-tech companies, drop-in spaces for guests, and spaces to host events, special guests and other shenanigans. The open space, fun atmosphere, and the ability to collaborate allows for everyone using the space to be more creative and inspire each other. In this environment like no other, the facility drives innovation and puts together key players from startups to global brands, to government agencies, academic institutions, tech incubators and accelerators.
Their downtown Kitchener location, the Communitech Hub, takes up residence in former Lang Leather Tannery, built in the 1850s. Located at 151 Charles St., the hub boasts more than 80,000+ square feet dedicated to world-leading collaboration and innovation with massive growth potential. Their second facility in Uptown Waterloo, the Communitech Data Hub, features an additional 20,000 square feet. Designed to maintain the character of these historic spaces, these hubs serve as centres for entrepreneurs to instantly plug into a vibrant community of peers, mentors, and partners. While these beautiful old buildings have been completely remodelled with plenty of windows and exposed brick walls, their underlying design purpose is to help drive forward innovation.
A Fluxible venue for some of this year's meetups and workshops, The Tannery's Area 151, reflects the multi-purpose mandate of the organization. The space's name is a play on both the Tannery's address of 151 Charles St. and Area 51, the mysterious top-secret U.S. military base in the Nevada desert. It features an open area and plug-and-play AV system for presentations alongside a mix of boardrooms, meeting rooms and single person phone call rooms, making this flexible area an ideal location for modern coworking, meeting and event hosting.
Programming for Every Stage
All this to say, Communitech is more than that an accelerator space and their services are not limited to startups. They deliver programs to help companies at all stages with access to capital, customers and talent, helping these companies grow and innovate. Their corporate innovation program is designed to help established companies think and act like small companies, partnering with corporations to open labs alongside small and medium enterprise businesses. According to Zubi, these co-labs are "... more open space with only a fraction closed off (than traditional offices), and that's by design. We wanted this to be a collaborative and open process, and we designed workspace to encourage that type of work."
In addition to being a proud supporter of community events such as Fluxible, Communitech runs professional development programs, workshops, networking events and peer-to-peer groups throughout the year. Community members are encouraged to check out the Hub at one of their weekly tours on Tuesday mornings or Thursday afternoons to check out space in person.
To book a site tour, or for more information on how Communitech helps, visit communitech.ca.
Back to News