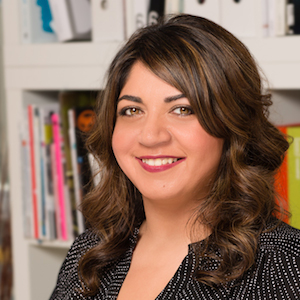 When President Obama chatted with Zach between two ferns, when Jerry sported the puffy shirt and even when you fatefully typed your very first tweet, it was a moment of firsts. It was about trying something new and knowing it was the start of something amazing (although in Jerry's case, amazing might be a little too strong of a term.)
We're breaking new ground too with our next speaker. This year we're stoked to add a marketing professional to our roster!
So, how do you market a marketer? Answer - you don't even try! You let their bio do all the heavy lifting, and we're so happy to do so because Amrita Chandra (@amritachandra) knocks it out of the park.
Amrita has spent the last 20 years marketing products and services around the world before calling Toronto home. She moved from her native India to Newfoundland as a young child, before setting off at age 17 for adventures in 40+ countries on 6 continents.
A startup veteran, Amrita has built and led marketing teams at growing technology companies including Asigra, Meridio (acquired by Autonomy) and Eprise (acquired by Divine). Today she runs her one-woman studio where she solves user research and marketing problems for clients including Audiobooks.com, Pressly and Normative.
Stay tuned for further announcements about additional speakers and details of Amrita's session at Fluxible.