Don't ask Jessica to design something pink for you without a darned good reason. One of her most popular speaking topics is on designing for women and our tendency to shrink and pink everything. (The Fluxible logo is... umm... deep cerise. Honest...) Given her fondness for red wine, craft beers, and Forensic Files and her status as a fellow Girl Geek Dinners speaker, at least one of our volunteers is a already a little swoon-y, and Jessica hasn't even presented yet. Can't wait!
While in college, Jessica took a class devoted to HTML and CSS, fell in love, and never looked back. She began her career as a front-end developer, and while working in the real world, she fell in love again with the principles of user-centered design. In March of 2010, she joined the team at Happy Cog as a senior experience designer.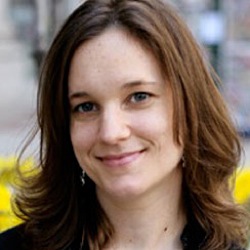 A strong advocate for universal usability, Jessica is the first to admit that she's befuddled by a lack of clarity in everything from road signage to food packaging. She's passionate about making things easy and enjoyable to use and regularly contributes her time and experience to the UX community. From 2008-2010, she served as an officer for PhillyCHI. She has also organized meetings for the Philadelphia UX Book Club.
In her spare time, Jessica busies herself with reading, cooking, and enjoying a fine glass of wine. She's also mildly obsessed with the TV show Forensic Files.
web: jessicaivins.net
twitter: @jessicaivins
Stay tuned for further announcements about additional speakers and details of Jessica's session at Fluxible.