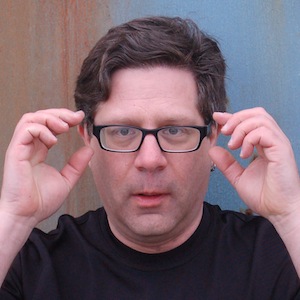 Thursday 5 Sep 2013
Interviewing the interviewer: A conversation with Steve Portigal (and his dogs)

Look up any who's who list of UX and chances are good he's on it. Brush up your interview skills and chances are good he wrote the book you're reading. Attend a local IxDA meeting and — you guessed it — chances are good he's being featured, or better yet, there to share his wisdom.
So, you can imagine our giddiness when Steve Portigal became a part of this year's Fluxible lineup. We get to host the world premiere of his brand new workshop on the importance of self-knowing in user experience.
Steve Portigal always has a question when it comes to getting answers. "I'm fully invested in helping the team... and in order to do that I need to be totally divested from [preconceived] ideas," says Steve. One tactic he employs "is to be exposed to those ideas or expectations as others have them, so they are out in the open and not closely held."
Originally from Canada, Steve is looking forward to returning to his roots to meet up with other humans and snag a coveted Canuck snack, like minty Aeros or a craft beer.
We had a chance to catch up with Steve and his two dogs, Brody and Max. You could really tell his interviewing expertise has rubbed off, as they were all ears and not at all emotionally invested.
Be one of the first to participate in Steve's new workshop, The Designer is Present, Saturday afternoon at Fluxible.
Back to News