15-minute presentation with Ed Küpfer
Making Meaning Visible: Tall Tales From an NBA Data Visualization Analyst
It takes a thought process and skills that draw equally from Bill James and Edward Tufte to be able to effectively visualize the myriad of stats and data available to an NBA team — to make meaning from numbers. Effective visualization is an important part of modern professional sports, as any edge that can be gained from the flood of data can help coaches and players better prepare for games.
Ed Küpfer will share insights and examples from his work with the Houston Rockets, where he's relied upon to find meaning in big data.
About Ed Küpfer
Data Visualization at Houston Rockets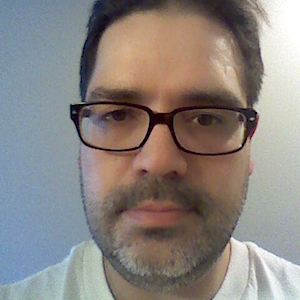 Ed Küpfer spends his days visualizing data for the coaches and players of the Houston Rockets, an NBA team whose current playoff run is keeping him busy. How, exactly, does someone land such a cool job? In Ed's case, his path includes prior experience as a pharmacist's assistant, a parking lot line painter, and a short order cook in a strip club. Obviously that prepared him for a career as an analyst for the Rockets because, really, what else could he have done?
As a self-taught number cruncher, Ed relies on his varied life experience to help communicate abstruse statistical findings to coaches and players. That life experience has also prepared him to speak at Fluxible, and we're delighted that he'll be sharing his visualization magic with us.