15-minute presentation with Brent Marshall
Creating a Playful Experience
Brent Marshall's interactive installations find whimsical ways to connect with the user and bring out the magic in technology.
What made the Molson Beer Fridge a huggable piece of Canadiana? How can we measure the energy of a crowd to give away free Toronto Maple Leafs tickets? How can Microsoft get people dancing with excitement over Windows? In short, how can a brand use technology to generate smiles and connect with their consumers on an emotional level? These questions, and the insights they've produced, will be examined in this talk about creating the perfect interactive playful experience.
About Brent Marshall
Technologist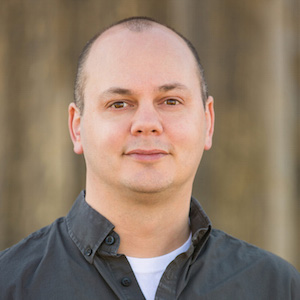 Brent Marshall is a technologist who creates one-of-a-kind interactive installations. From reactive dance floors to digital dog collars, and from breathalyzers that call you a cab to a beer fridge that opens when you sing the national anthem correctly, he builds projects that aim to delight while redefining the ways we interact with everyday objects.
Brent trained in graphic design before getting drawn into the world of interactivity. A veteran of the ad agency world, he has worked with many top tier clients. He currently works in his home studio in Kitchener, concocting ideas for the next big crazy contraption.