40-minute presentation with Guy Colborne
Car Companies are Doomed, So I Started a Car Company
Car design is viewed by many as the pinnacle of 3D industrial design. You are working on large, complex, desirable objects that are potentially built in the thousands — or indeed millions. To develop a vehicle from initial idea to production commonly takes 3 to 6 years and potentially billions of dollars. Thus, the accepted view is that you can succeed only if you have a lot of money, a lot of time, and a very large development team.
This approach creates a risk-averse culture. As a result, opportunities for innovation are limited within mainstream car companies. You can argue that in the past 20 years there has been only one truly radical idea that made it to production: the Smart fortwo.
In this talk, Guy Colborne shares his experience in breaking free from this model at Elemental Cars. At Elemental, Guy and his teammates use design thinking, tools, and methodologies in a way that would never fly in the mainstream auto industry. They behave more like a high-tech startup than a car company, looking for ways to solve problems and design solutions quickly, inexpensively, and confidently.
About Guy Colborne
Car Designer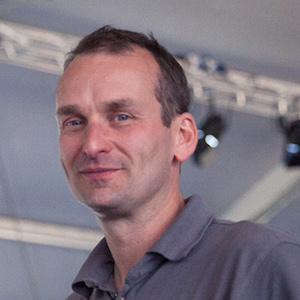 Guy is a seasoned car designer whose experience ranges from automotive startups to lecturing at London's Royal College of Art.
Three years ago, Guy joined a group of ex-Formula 1 engineers to build a lightweight, high performance, road-legal track car. This year, their company Elemental Cars will bring the fruits of their labour — the spectacular RP-1 — to market in the UK. It's coming to Canada as well, assuming Team Fluxible's lobbying efforts are successful.
Guy honed his craft by designing pretty much anything and everything automotive. He has tackled racing cars, city cars, family cars, luxury limousines, vans, trucks, 4×4's, electric cars, taxis, mine-resistant vehicles, and even concept cars for computer games. He has done work for major brands such as BMW, Opel, Cadillac, Daewoo, and Ford. If you're a petrolhead, be sure to buy Guy a drink at Fluxible and ask about his 18-month secondment to the Pininfarina Design studio in Turin.