Fluxible 2014 Sponsorship
Sincere thanks to our sponsors for supporting Canada's UX community. As a volunteer-run event, 100% of these sponsorship contributions go towards making Fluxible a success.
Platinum Sponsors
Gold Sponsors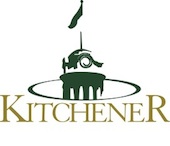 The City of Kitchener, located in southwestern Ontario, Canada, has hosted Fluxible events since the beginning in 2012. And it's a great fit, as the City's Economic Development Strategy recognizes user experience as significant to a strong diversified economy, a key driver of local innovation in all industries, and a source of cultural vitality for the community.

Kik Messenger has become the simplest, fastest, most life-like chat experience you can get on a smartphone. But Kik isn't just about instant messaging. Kik fans are already exchanging videos, sketches, smileys and more, with apps that have been built using the Kik API. With over 50 million beloved Kik fans and a phenomenal team, Kik is helping to define the smartphone era.
Silver Sponsors