40-minute presentation with Brent Bisaillion
Using the Thalmic Labs Myo to interact with the world
12:00

pm

 – 12:15

pm
Sunday
14 Sep
2014
We've all become accustomed to gestural user interfaces on our phones and tablets, thanks to Apple's 2007 introduction of what was to become its wildly popular iPhone. But gestural user interfaces aren't confined to touch screens. There's a whole world of interaction that gestures open up, and the local heroes at Thalmic Labs are showing the way with the Myo product.
Brent will incorporate a certain amount of hand-waving into his presentation — which in this case is a great thing as he'll be talking about the Myo, showing what it's capable of, and explaining how the team at Thalmic redefining how we interact with technology.
About Brent Bisaillion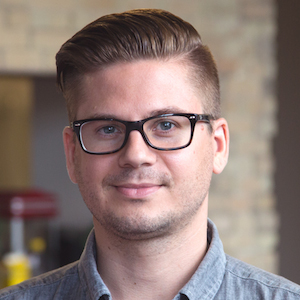 Brent studied Design Art and Digital Image and Sound at Concordia University in Montreal, then jumped into the world of web and interactive design.
Through his career, Brent has worked mostly in the online payment industry with Payza as the UX Architect. Recently, he made the leap into the consumer wearable tech world with Thalmic Labs, where he's excited to help determine new horizons of human-computer interaction with the Myo armband.
This is Brent's first visit to Fluxible, and we're delighted that he's speaking!