40-minute presentation with Kendra Shimmell
Narcissistic Products Suck
9:00

am

 – 9:40

am
Sunday
14 Sep
2014
This may come as a shock, but your product is not the center of the universe! Far from it. It's more likely the thing that someone uses to do some task that they'd rather not be doing, and your new feature is, at best, bringing them some tiny respite from an otherwise boring-ass workday. Yes, you are changing people's lives — clearly, you are — but it's time to put this work into perspective. When we operate with an inflated sense of the role our products play in people's lives, we can miss the opportunity to really serve them. This presentation will introduce a few simple practices for transforming a narcissistic product view to one with a bit more humility. And, by proxy, transforming the product your team is designing into an appropriately sized morsel of goodness that helps people achieve their goals without demanding much of their attention and admiration. I want to see a future where we are less driven by questions like, "How can we make this more engaging?" or "How can we make this easier?" and more by questions like, "Should we make this go away altogether so people can get back to what they really want to be doing?" By the way, Kendra invites you to hang out and chat at Fluxible, adding that her style is less soapbox and more coffee talk.
About Kendra Shimmell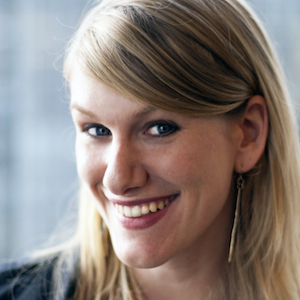 Kendra is Managing Director of Cooper. As an educator and designer, she has brought product strategy, design, and business innovation to companies ranging from Fortune 500s to startups in a range of categories, from healthcare systems and medical devices to retail environments, consumer electronics, financial services, enterprise management, and more.
In addition to developing Cooper's groundbreaking UX Boot Camp, Kendra also created Cooper's popular Design Leadership course from the ground up, offering new tools for designers to lead and succeed in business.
Always with a soft spot for healthcare, she initiated Cooper's partnership with Rock Health, which has since grown to a successful mentorship program, matching Cooper designers with their healthcare startup teams.
Active in the design community, Kendra has served on the Board of Directors of the Interaction Design Association (IxDA) and speaks at numerous industry events.