40-minute presentation with Jessica Ivins
What Everyone Needs to Know About Designing for Women
Presented by: Independant
Talk with Jessica Ivins • Saturday 1:30 pm
If you're reading this, you're probably male, since the majority of people in the Web design field are men. But did you know that the majority of your user base is probably female? And are you sure you're designing for them in a way that's effective and not insulting or dismissive? Women are an important audience, and not one to be ignored. Understanding them and designing for them effectively is difficult, but it can be done.
Women have become the digital mainstream. In the US market, women make up just under half of the online population, but they spend 58 percent of e-commerce dollars. Women are online gamers, shoppers, bloggers, and social media consumers. And yet, we still don't quite know how to design for them.
The immediate impulse when designing for women is to "shrink it and pink it," meaning products are splashed with the color pink, and content and messaging are dumbed down. But women want what's relevant to them. They want products and online experiences that are intuitive, not insulting to their intelligence. They want function, not frills.
This session reviews the historical and contemporary landscape of designing for women. We'll review misguided, yet well-intentioned designs based on assumptions and stereotypes that have flopped. Likewise, we'll review success stories of well-designed products and experiences that truly meet women's needs. We'll also look at when gender should factor into your design and when it shouldn't. Ultimately, when designing for women (or men, or both), you'll want to get it right.
About Jessica Ivins
Independant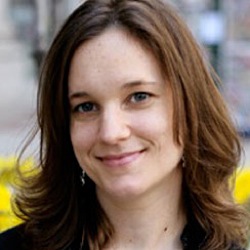 Fluxible says: Don't ask Jessica to design something pink for you without a darned good reason. One of her most popular speaking topics is on designing for women and our tendency to shrink and pink everything. (The Fluxible logo is... umm... deep cerise. Honest...) Given her fondness for red wine, craft beers, and Forensic Files and her status as a fellow Girl Geek Dinners speaker, at least one of our volunteers is already a little swoon-y, and Jessica hasn't even presented yet. Can't wait!
While in college, Jessica took a class devoted to HTML and CSS, fell in love, and never looked back. She began her career as a front-end developer, and while working in the real world, she fell in love again with the principles of user-centered design. She was most recently a senior experience designer at Happy Cog.
A strong advocate for universal usability, Jessica is the first to admit that she's befuddled by a lack of clarity in everything from road signage to food packaging. She's passionate about making things easy and enjoyable to use and regularly contributes her time and experience to the UX community. From 2008-2010, she served as an officer for PhillyCHI. She has also organized meetings for the Philadelphia UX Book Club.
In her spare time, Jessica busies herself with reading, cooking, and enjoying a fine glass of wine. She's also mildly obsessed with the TV show Forensic Files.