2-hour Workshop with Satish Kanwar
Responsive Web Design
9:00

am

 – 11:00

am
Sunday
23 Sep
2012
The proliferation of mobile devices in our market has enabled the portability of information and driven the need for more of the web to be context-agnostic. In parallel, modern design techniques have empowered us to craft experiences that are truly responsive to devices of all shapes and sizes. In this session, we'll explore the practice of responsive web design and help arm you and your design team for any screen. From answering basics questions like "What is responsive web design?" to looking closely at process and approaches, Satish and Verne will cover important material that you'll be able to put to use right away. Group exercises will give you immediate practical experience, while case studies and examples will provide real-world examples of responsive web design in practice.
About Satish Kanwar
Co-Founder of Jet Cooper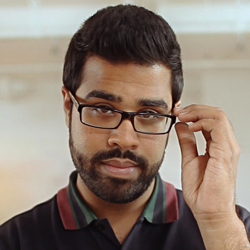 Fluxible says: Apparently Lean Coffee TO has nothing to do with java having a body image issue. It's about entrepreneurs. Whew, good to know. That being just one of Satish's many side projects and hobbies, and combines with his ever so soothing and trustworthy-looking bio photos, we're pretty much ready to believe anything he says in his workshop… Assuming his partner Verne plays along…
Satish is the Co-Founder of Jet Cooper. As a product strategist and business development lead, he's worked with a wide range of products from concept to scale with startups, brands and organizations across North America.
Satish is an active member of the technology, design and startup community. He is the Co-Organizer of Lean Coffee Toronto, a peer group of over 800 entrepreneurs discussing lean startup methodologies. He is also an Advisor and previous Co-Chair of TEDxToronto, a leading ideas conference for the city's foremost thought leaders.
Satish tweets on local startups, interesting reads, and good coffee. He is a graduate of the University of Toronto.