40-minute presentation with Patrick Hofmann
Icons and Images: Optimizing Graphic Usability
Presented by: Senior User Experience Designer
Since creating his first wordless manual in Waterloo in 1993, Patrick has spent his career evaluating and enhancing the usability of images -- in everything from technical documentation to digital interfaces. Now at Google Maps, Patrick continues his quest to create meaningful visuals, and constantly asks: how best do we create images so that they are most effective in our information and most useful to our users? Let's address these questions, become inspired by the possibilities, and even make fun of the situation. There are simple and surprising ways of building user experiences that are visually effective and fluent.
About Patrick Hofmann
Senior User Experience Designer at Google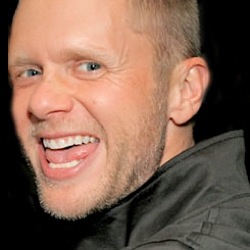 Fluxible says: He certainly is that guy! We carefully scheduled Fluxible to coincide with dates when Patrick is NOT already jetting around the world, teaching and keynoting at international conferences. For us, Patrick agreed to scoot from his new home in Sydney to his former (and some would say true) home here in Waterloo region, where he lived and worked for many years.
From his start as a technical illustrator in Waterloo in 1993 to traveling the world as a visual information designer, Patrick has been labeled the "man of few words". This vibrant Canadian has helped companies worldwide overcome the usability challenges associated with internationalization and localization — by replacing verbose text with meaningful graphics, pictograms, and icons that work for all users. With an extensive background in both international usability research and iconography, Patrick's award-winning work and passion for visualization have served him (and probably all of us!) well as a Senior User Experience Designer on Google Maps.