2-hour Workshop with James Wu
Designing for Tablets
Tablets have moved beyond being novelty devices to become mainstream for both business and personal use. Creative interaction designs and gesture are no longer enough to distract the user from an unusable interface. Standard UX practices need to be adapted for both the design and analysis of tablet UIs in order to build the next generation of apps.
This workshop will explore principles and techniques for building better tablet UIs, including ideation, design standards and user testing. It will give you a better sense of how to adapt what you already know to designing for the fast growing field of tablet computing.
About James Wu
UX Lead for Tablets at Kobo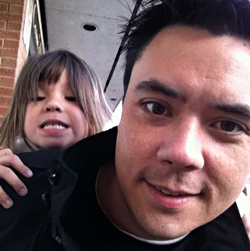 Who's Wu?
Fluxible says: James can read you like a book, though we're not yet sure if people are more like eBooks or the traditional paper kind. (Our guess is Choose Your Own Adventure). James originally got into the "better mousetrap" game designing tools for software developers, and these days focuses on the digital reading experience at Kobo. We figure with a good book and a fine scotch (another of his passions), he's definitely on the right track.
James came to the field of User Experience from a research background, studying computer science in undergrad, and as he moved into graduate school, becoming interested in how the properties of different development tools made them more or less useful to developers building large scale applications. He studied different ways of analyzing development tasks and comparing them to available tools, then set about designing better tools that bridged the gaps they found. This was before he even knew he could get real job as User Experience professional.
James began his career outside of academics as a usability analyst, then moving quickly into the architecture side, having always had a soft spot for good interface design and ergonomics. He's done UX for companies such as AOL, BMW, DirecTV and OfficeMax, and in fields ranging from distributed computing middleware to social HR software. Working at Kobo in Toronto as the UX Lead for Tablets, his current focus is on eBooks and digital reading, and more specifically on the devices that deliver the digital reading experience.
In his spare time he enjoys all things with wheels - cars, motorcycles and bicycles. He spends as much time as possible with his kids, and enjoys the pleasures of fine wines and scotches.