40-minute presentation with Michal Levin
Designing a product for an ecosystem
Talk with Michal Levin • Saturday 9:00 am
Remember the days when there was just a PC — a single form factor to consider when designing an application or website? It was landscape in orientation, relatively high resolution, and based on mouse-driven interactions.
Well, times have sure changed! Today, we have to consider many different desktop and mobile devices in our design work — in different shapes, sizes, technologies, resolutions, input methods, and features. More importantly, these differences represent a variety of users, interaction models, behaviors, use cases, contexts, needs, goals, and environments.
So how do you design for all of these different devices? And even more interestingly, how do you design for multiple devices that are all part of the same product ecosystem?
This presentation (with the help of Seinfeld and some Friends) will discuss the unique challenges behind designing a product for an ecosystem of devices. It will map and demonstrate 3 main ecosystem design patterns (Consistent, Complementary, and Continuous) and discuss new considerations to account for in this multi-screen era.
About Michal Levin
User Experience Designer at Google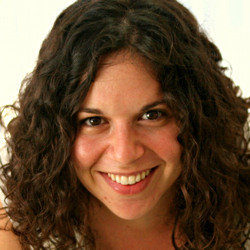 More about Michal Levin
Fluxible says: For a moment, we thought we'd stumbled onto the secret of Michal's success in great UX design... but then we realized the psychic "Michal" that Google coughed up wasn't her. Probably a good thing. Her talk might have been a bit creepy. As it is, she has invaluable cross-cultural and intercontinental experience in Israel and the US. And having spent several years at Google, where the audience and challenges are about as big as it gets, we're sure our brains will be comfortably full with everything Michal shares with us. Michal Levin, User Experience Designer at Google, has extensive experience in UX design for web, mobile, and TV. She has comprehensive knowledge in user-centered design, consumer behavior, interaction design, information architecture, and persuasive marketing. Since joining Google in 2009, Michal has been responsible for the UX design of global products in the areas of enterprise, analytics, search, data visualization, and more. She has also presented at leading international UX conferences. Prior to Google, Michal worked as Senior UX expert at TZUR, a leading UX design consultancy in Israel, and as UX specialist at modu. She holds 2 bachelor degrees in Psychology, Communication and Business Management from Tel Aviv University.