2-hour Workshop with Whitney Quesenbery
7 Ways to Make Personas More Effective
After you've built personas, how do you put them to work to help you design better experiences? This workshop starts where others end, and explores how you can use personas (and their stories) throughout a UX process.
We'll work through a project from user research to evaluation, exploring different ways to use personas to stay grounded in the research... and to brainstorm new ideas. You'll leave with a collection of techniques you can put to use to create and share snapshots of users that cut across the complexity of context, attitudes, and behavior, and how to use them with your team to design with a better view of users in mind.
You'll work individually and in teams to explore different ways to use personas effectively, and how to write stories for them, including:
Collecting stories for personas that make a compelling case for user needs.
First person stories and third person stories and how to choose the right one.
Team role playing to explore your product through your personas.
Sketching with stories. Using words and images to explore ideas.
Using stories to explore ways to transform pain into pleasure (and success).
Using story structures for impact.
Using personas in reviews, walk-throughs, and usability testing. What you'll learn:
How to use personas throughout your UX process
New activities you can use with your team and stakeholders
Different ways to create persona stories to optimize their impact
Easy techniques you can apply immediately to your own work This workshop is for experienced UX practitioners, including researchers and designers. It will also be helpful for anyone with experience leading product design teams who wants to integrate user perspectives into their work more effectively.
About Whitney Quesenbery
User Experience Researcher and Usability Expert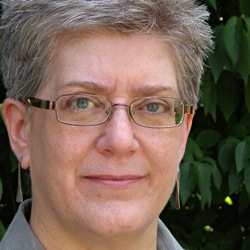 Fluxible says: We think Whitney has the best librarian name ever. We're only off by a generation, though, as she's the daughter of one. Before turning her focus to user experience and usability matters online, she honed her sense for storytelling and user experience on a very different stage — literally — as a theatrical lighting designer on and off-Broadway. Her presentation may have all the drama of a dark and stormy night...
Whitney Quesenbery is a user experience researcher and usability expert with a passion for clear communication. Her projects include work for the National Cancer Institute (US), The Open University (UK) and IEEE (worldwide). She enjoys learning about people and using those insights to products where people matter.
Whitney works to improve the usability of civic life. She has served on two US government advisory committees: advisory committee to the U.S. Access Board (TEITAC) to update the "Section 508" regulations; and chair for Human Factors and Privacy on the Elections Assistance Commission advisory committee (TGDC) creating requirements for voting systems for US elections. She leads a multi-year project for the Election Assistance Commission to improve access to elections.
Whitney was president of the International Usability Professionals' Association (UPA). She's also and on the board of the Center for Plain Language and a Fellow of the Society for Technical Communications.
Whitney is currently working on a new book to add to the three she has already co-authored or contributed to (see sidebar). Universal Design for Web Accessibility with co-author Sarah Horton is due for publication this year.