What's this? Another speaker? We spoil you.
Dan Gärdenfors, the latest addition to our star-studded lineup, is a wizard. Don't let the lack of a pointy hat fool you. Hailing from Sweden and comfortably seated on the bleeding edge of innovation, Dan makes the magic happen. From 3D graphical interfaces and augmented reality to February's impressive Confetti demo, he has his fingers in many pies and they all taste like the future. We hear he's not bad at rock climbing too.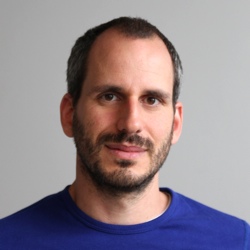 Dan is a Senior Concept Designer at RIM (formerly The Astonishing Tribe) in Sweden. He spends his time inventing, designing, and communicating futuristic user interfaces. With a Master of Arts combining Musicology and Computer Science, it's clear that thinking outside the box is his natural state of mind. Dan is a strong believer in collective intelligence, and enjoys hanging out with his amazing designer and developer colleagues.
Work: RIM