40-minute presentation with Glen Drummond
Getting Imaginary People to Do Real Work for You
Talk by Glen Drummond • Saturday 3:30 pm
Personas first swept into the design world at a time of great change, when whole markets were shifting focus from tangible products to software-based products. In this environment — coinciding with the phenomenon Marc Andresson more recently coined as "software eating the world" — software developers became empowered as a new elite.
However, some observers felt this new elite needed a bit of help when it came to designing interactions for us pesky and irrational humans. And so personas blossomed as a design practice.
With a decade or so of experience behind us, the industry take on personas seems mixed. Personas have never been in wider use, but the requisite standard of quality seems to be under negotiation — or even outright attack...
So, what are we to make of personas as a design tool today? Is their relevance diminishing, or is it migrating? And what are the implications in terms of how personas need to be created, structured, and shared? This talk reflects on these big questions and provides guidance on how to think about personas in today's business environment.
About Glen Drummond
Partner at Quarry Integrated Communications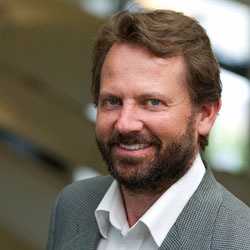 Fluxible says: Given the comparisons in his self-bio, we expected Glen to be swarthier and possibly fictional. But designers are nothing if not adaptable, and given he's been an innovator for three decades, Glen's a master at it by now. Not content to rest on his laurels in his wide-ranging role at Quarry, he also teaches, rocks out, and is a dab hand with a spile. But probably not all at the same time.
Innovation in a corporate setting is notoriously challenging work. It attracts people whose sense of purpose, rightly or wrongly, can sometimes be seen by their colleagues as part Lone Ranger, part Don Quixote, part Edmund Hillary. But for the innovators themselves, two things are clear: the best way to sustain success is through meaningful innovation, and without fresh perspectives, the prospects of meaningful innovation are slight.
Glen Drummond is in his third decade of work serving as the Sancho Panza, Tonto, or Tenzing Norgay to this tribe — innovators and change-agents working in marketing, new product development, executive leadership and customer experience design. In these assignments, Glen's attention is typically directed both inside and outside the corporation. Inside, Glen draws upon a regularly refreshed set of models to help clients identify and overcome the conceptual barriers to innovation that have been erected in the natural course of running their business. Outside, Glen leads customer insight initiatives that integrate talents in consumer ethnography, analytics, data visualization, and story-telling. The outcomes of these projects fuel innovation with new customer insights and provide organizations with strategic segmentation models that match their contemporary competitive context.
In addition to his work focused on Quarry's clients, Glen also acts as a sponsor for new service development at Quarry where he is a Partner in the business. Glen studied literature and critical theory in his undergraduate at WLU, rhetoric in his Masters program at University of Waterloo, and advertising at the Institute of Canadian Advertising. He teaches a 4th year course in "Marketing as Creativity" at the WLU School of Business and Economics. Glen is married, a parent of teenagers, a weekend band classic rock bass player, and the proprietor of a small farm producing organic hay, and, if the reviews are to be believed, the best maple syrup you've ever tasted. BBB: It's true, I've sampled it right from the trough.