[caption id="attachment_2076" align="alignright" width="225"]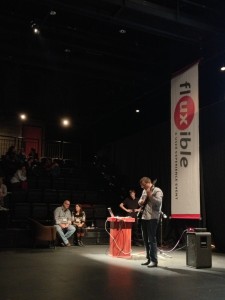 Jason Raso at Fluxible[/caption]
The Saturday program at Fluxible featured some terrific talks. Concurrently, it also featured the Festival of Interstitial Music, during which solo musicians performed five-minute musical interludes between the talks. Here's the lineup for the festival, in the order in which they performed.
Jason White, piano
Jason actually played a longer prelude, rather than a short interlude, as he graciously agreed to perform during the delay prior to the first talk. I should note that while planning for the festival, three different people recommended that I get Jason to perform. Needless to say, that was great advice. Jason was pleased to note that there were a few attendees who noticed his version of Super Mario, which he slipped in towards the end of his performance. Here's more about Jason.
David Wiffen, tenor saxophone
Dave Wiffen is a local reed player who is also the saxophone instructor at Wilfrid Laurier University. A mainstay of the local music scene with a varied collection of musical credits, David's performance was an improvisational tour de force. Here's a cool little story: David's sister was a Fluxible attendee. She didn't know that he would be playing, and he didn't know that she was in the audience. Needless to say, they caught up after he finished playing! Here's more about David.
Kathryn Ladano, bass clarinet
Not many people at Fluxible recognized the instrument, but they recognized that Kathryn was making some amazing music with it. Away from Fluxible, Kathryn performs in a wide range of musical contexts where she explores the sonic edges and musical possibilities of her instrument. One of my favourite comments in the survey that we asked attendees to complete: "More bass clarinet next year, though. That was awesome." Here's more about Kathryn.
Geneviève Schirm-Joyce, cello
Here at Fluxible we love the sound of the cello, and hearing it in a solo setting shows off its expressive possibilities in the hands of a skilled artist. Geneviève finished off our morning with the last musical interlude before lunch.  Here's more about Geneviève.
Adam Bowman, cajón
For a skilled percussionist, any surface can become a musical instrument. Adam showed us just how skilled he is in a riveting performance on a wooden box! While Adam later characterized it as "some improvised Cajon tom foolery that I totally pulled out of my backside", our attendees obviously heard something amazing and joined in on the performance with their claps. Of course, Adam gives riveting performances in many other places as well, as he has been a mainstay in both the Canadian and international music scene for over a decade, and has toured and recorded with many well known and respected artists! Here's more about Adam. And you can find him on Twitter, too.
Jason Raso, bass guitar
Jason is a much in-demand bassist whose explosive, funky performance couldn't possibly have come from a bass guitar. And yet, it did! As his bio puts it, "Jason Raso has a funk heart and a jazz head". If you enjoyed his performance here, check out the Jason Raso Quartet if you get the chance. Here's more about Jason.
Victrola
The Victrola that we heard from is 95 years old and still playing 78rpm discs as effectively as it did when it first left the Victor Talking Machine Company's factory in 1917! We heard "Black Bottom" by Johnny Hamp's Kentucky Serenaders. The Victrola filled in during a gap created by our late start. Here's more about the Victrola.
James Bousquet, bagpipes
James is a technical communicator by day, looks after Fluxible's finances outside of that, and is also a long-time skilled piper. How's that for a triple threat? James began playing highland bagpipes 14 years ago. Since then, he has performed at a variety of events and venues, including Citytv and the Rogers Centre, and has won several awards, both as a soloist and as a member of the Grand Celtic Pipe Band. He played a set of tunes comprising Scots Wha Hae, Laggan Love Song, The Irish Guards' Welcome to Toronto, Bonnie Galloway, The Rowan Tree, and We're No Awa Tae Bide Awa.
Finally, the music continued on Saturday evening with a jazz quartet led by trombonist Ron Schirm, and featuring Rob McBride on bass, Andriy Tikhonov on piano, and Eric West on drums.