If Matt ever makes it big as a rock star, at least we know his band's album covers will look great. For now, though, we're glad he's not quitting his day job. His broad experience and expertise in the creative, hacking, and product design spheres (totally stole that from the Normative website) will have us hanging on his every word, we're sure.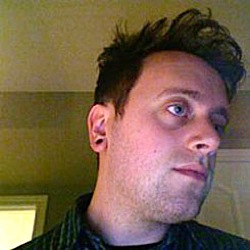 Matt is a Design Director at Normative in Toronto. Matt has a background in new media art, music, and design and has been a practice leader in the field of interaction design for over a decade. His work spans a range of industries, working for clients such as Coca-Cola, CapitalOne, ING Direct, Nike, and Disney, as well as product and technology startups. Matt is a member of the board of directors for the Interaction Design Association (IxDA), a global organization dedicated to the development of the interaction design practice, and regularly speaks at industry conferences and events.
web: http://blog.emenel.ca/
twitter: @emenel
Stay tuned for further announcements about additional speakers and details of Matt's session at Fluxible.